A Brief History

The current Manson Guitar Works facility can trace its roots all the way back to the 60s when Hugh's brother, Andy Manson, decided to build his first acoustic guitar aged just 17. Andy later studied at the London College of Furniture in 1968/69 where lectures in the science of soundboards became of particular interest.
Seen right are a couple of visitors to the Manson Guitars stand at an exhibition in London sometime in the late 70s/early 80s. Hugh can be seen listening to the gravelly voice of Motorhead's Lemmy whilst Andy (far left) is checking out Hank Marvin's latest riffs.
Andy developed his passion into a guitar repair/building business specialising in acoustic instruments such as mandolas, bouzoukis, and other folk instruments. It wasn't long after this that Andy's younger brother Hugh joined the scene deciding to specialise in the electric side of guitar making. This was to become the first foundations of the current Manson Guitar Works.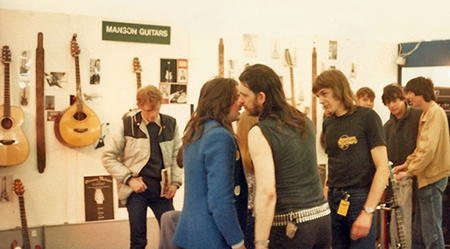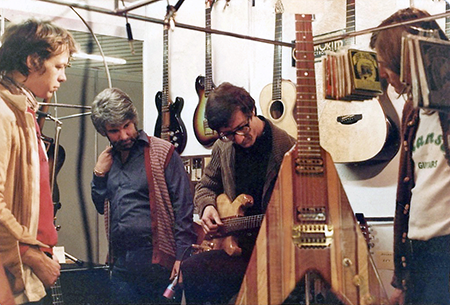 The new alliance, based in Crowborough in Sussex, was turning out various custom one-off instruments alongside a more production based line. In the electric range that forms part of the Works' history these semi custom models were called the Kestrel and Merlin Series. Even in its earliest incarnation Manson Guitars focused on one-off customs alongside a more production based range - an M-series in effect - just like the current structure today.
A great example of a full custom is the bass guitar produced for British string company Rotosound, with the company's trademark roaring lion as part of the inlay work. The bass-wielding skeleton seems to appear on several pages of Manson Guitars images! No-one seems quite sure why when quizzed today.
The 1970s was a decade of development, the very earliest Merlin guitars harking back to the very late seventies. It wasn't long before customer needs were refined into two categories; those that demanded an extreme one-off design that could allow the player to perform music that no other guitar could, and those that saw the value of a UK designed guitar that could be up specced with a series of options to give what we now like to call a 'production custom'.
Various slogans and logos appeared during this time as well as dozens of press reviews praising the quality and craftsmanship of the guitars.
The company slogan of the late seventies and early eighties promoted the values of quality, experience and value - "If you care about your music, you care about your guitar, so don't settle for second best. MOVE UP TO A MANSON!"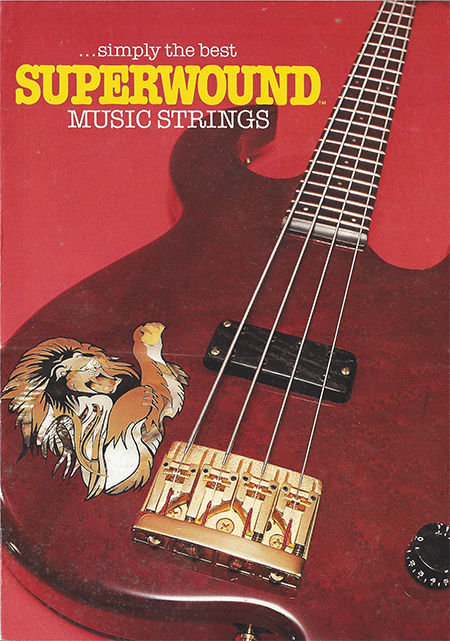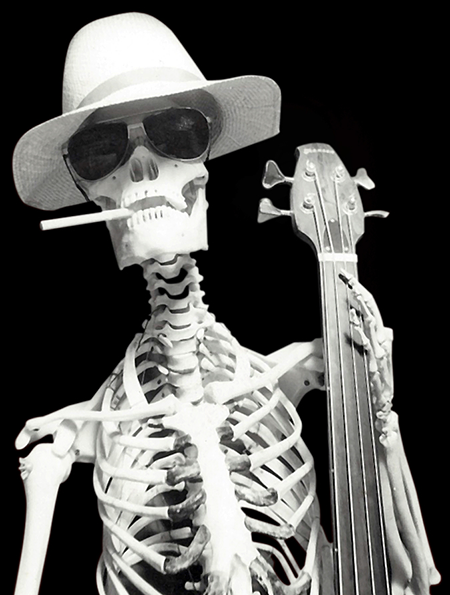 The eighties was a period of both massive expansion and great change in the Manson Guitars world. A new slogan - GUITARS FROM THE WOOD - appeared with a tweaked logo. A book of recorded serial numbers for each and every guitar that was produced shows the company at this time had a full order book and a diverse range of instruments in production. During the early years of the decade there were a great number of international artists with instruments either in build or under discussion. Notes and phone numbers can be found for builds and or repair work from John Paul Jones, Jack Bruce, Jeff Beck to punk bands such as Anti-Nowhere League and session players such as John Currie!
Pictured below right is Hugh Manson wiring up a Classic T model made in his Devon workshops.
The acoustic/electric divide between the two Manson brothers became further entrenched at this time, when Hugh and Andy both relocated to Devon and decided to feature totally independent workshop spaces with Hugh specialising solely in electric guitar and bass.
The serial numbers that had been carefully recorded in a book up until the move preserved in detail the instruments that were produced from the former joint workshop.
The last entry in the serial number 'bible' shows 870310, a Manson Kestrel bass with Cocobolo top. After that Hugh was solo on electric guitars whilst Andy pursued his love of all things acoustic. The next entry shows number 940607, a mysterious E-Bass model. Production still continued between those dates but numbers weren't recorded during this time. The 90s was to be another period of great change...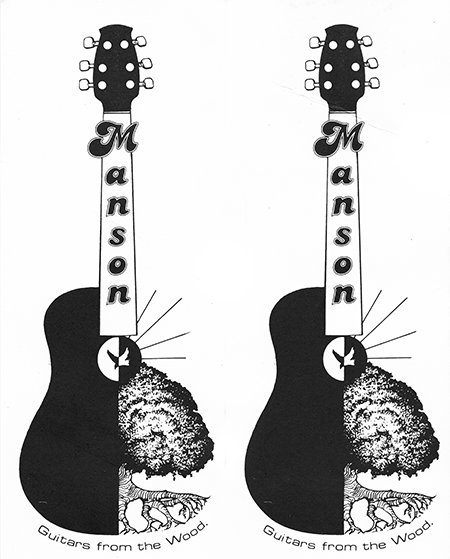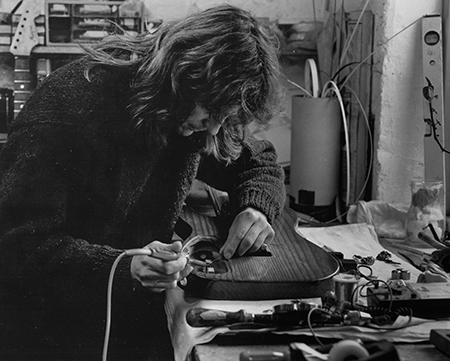 In 1991, Adrian Ashton, a freshly qualified lawyer with a penchant for all things bass-related quit his job and took off to Los Angeles to study at the world renowned Bass Institute of Technology. During this time the frustrations of trying to find a decent music shop that knew its saddles from its Sperzels saw him return to the UK to form a partnership with Hugh and colleague Jay Henson. In November 1992 Manson's Guitar Shop was opened.
Formed with an ethos to offer the very best of advice and service in all things guitar, it combined Hugh's luthier skills and guitar industry knowledge with Adrian's bass guitar knowhow and legal expertise. Mansons Guitar Shop is still trading successfully today in a new larger building just a few hundred yards away from the old store. The original building was small and featured walls dating back to the 16th century but the combined knowledge of the team overcame any shortcomings in square footage and very soon hundreds of customers started heading down the narrow cobbled lane to the now legendary premises. In less than a decade those names included John Paul Jones and Jimmy Page of Led Zeppelin, Matthew Bellamy of Muse, Noel Gallagher of Oasis, Hank Marvin, Joe Bonamassa, Tim Wheeler of Ash, Steve Howe of Yes/Asia and dozens of other legendary guitar players, many of whom we pay tribute to on the back of our current design Manson apparel. Also at this time an expansion into workshop repairs saw two new important members of staff begin their training under Hugh's watchful eye, Tim Stark and Rom Dobbs.
Featured on the right from top to bottom are one of our more flamboyant customs - a bass and extended guitar hybrid on a single fingerboard, the original retail shop team of Hugh, Adrian and Jay, and the 8-string bass made for John Paul Jones during the Diamanda Galas tour.
During this decade Adrian asked Hugh to build him his third Manson bass and came up with the E-Bass design. Hugh refined those ideas into a one-off custom that soon caught the attention of John Paul Jones of Led Zeppelin, already a multi-Manson owner. The move from the old premises to the new premises saw a slow down in custom production, yet in terms of creativity, Hugh and the team were just starting to warm up...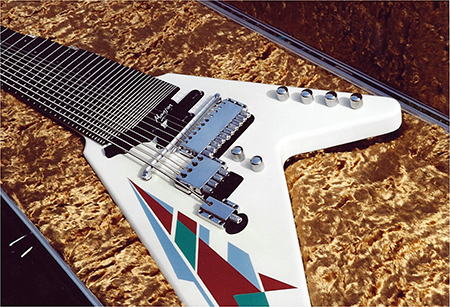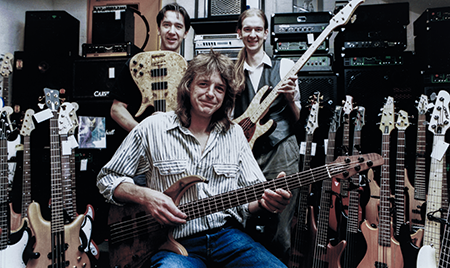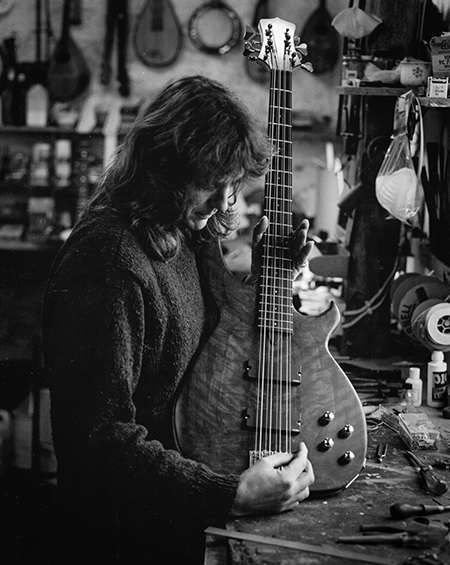 When Mansons Guitar Shop moved into the new larger premises, the original 'character' building became free to relocate and develop Manson Guitar Works as a separate entity. One of the most important custom builds at this time was the Manson 'De Lorean', built for Matthew Bellamy from Muse. A unique instrument developed jointly by Hugh and Matt which featured muliple unique circuits installed with the help of electronics genius Ron Joyce. The name of the guitar was derived from the aluminium finish used to coat both the guitar and the famous car made by De Lorean Motors which featured in the 'Back To The Future' films.
The guitar can be seen in the pictures on the right being presented to Matt for the first time at Real World Studios in Bath, UK and with Hugh outside the original Manson's Guitar Shop premises in Exeter.
Towards the end of the decade Adrian and Hugh decided to create Manson Guitar Works Ltd to remove any confusion between the retail store and the vastly expanding guitar manufacturing operation. Now joined by long term Manson employees Tim Stark and Rom Dobbs (picured below right) the company could focus on a new range of guitars, the MA and E-Series.
Custom orders and Works guitars featuring our signature finishes such as aluminium swirls, mirror tops and sparkle finishes have also formed part of the core product range. Expansion of the official signature guitar models for Matt Bellamy of Muse to include our MB and DL variations also joined the existing models. Our user list continued to expand with players from every musical style such as Dave Grohl, Nick Beggs (Steve Hackett), Baz Warne (The Stranglers), Noisemaker (Japan), Seasick Steve, James Leach (SikTh) and Simon Neil (Biffy Clyro) are just some of the artists enjoying Manson instruments.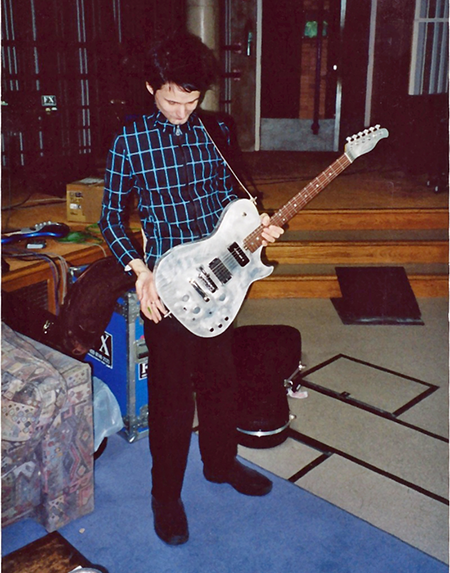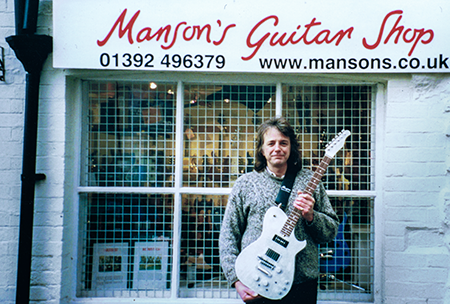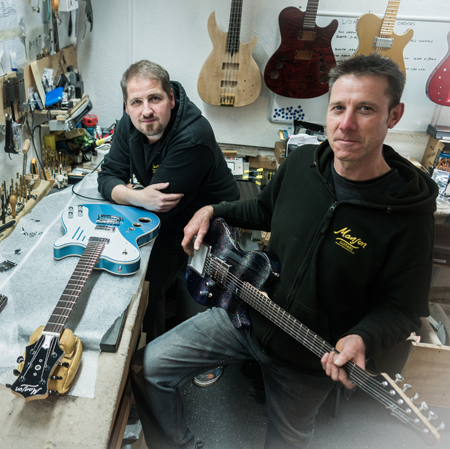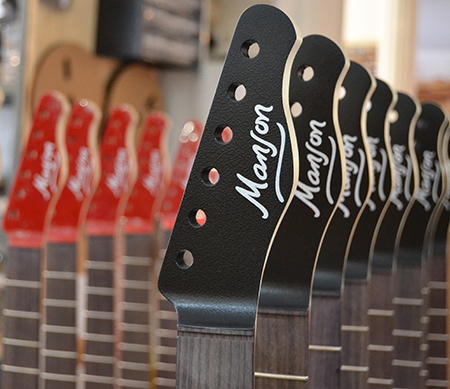 The most exciting decade of Manson Guitar Works began in this period, albeit with little hint of what was to come in the year 2010. The Manson MA guitar became the new standard model of the company, being offered in Classic and EVO variations to cater for the traditional or modern player. Classic models featured scratchplates and front routing with options such as the Bigsby tremolo. The EVO series was rear routed and catered for the tech adventurous player wanting to employ Manson MIDI screens, sustainiac pickups and Z-Vex Fuzz Factory installs. More artists joined the Manson roster with a more distinctive, international flavour such as Daniela Villareal from The Warning (Mexico), Sabrina Pedroso (France) and Robin Finck (USA).
The product during this era saw the team refine three MA model developments whilst always retaining the classic Manson design body outline. Several Manson MB artist guitars were released during this decade to both critical acclaim and unprecedented customer demand, each run selling out before production had even begun. Thus we saw the 'Black Knight' equipped with Floyd Rose, Red Santa MIDI screen and Red Alert Sustainiac powered MB variations.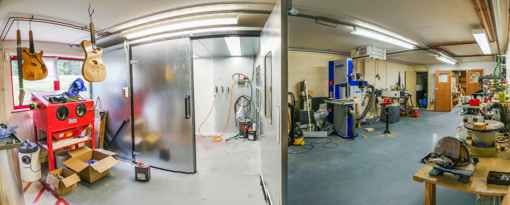 The latter part of the decade saw two milestone changes for the company. Firstly a move to significantly larger premises based in Ashburton, Devon, resulted in an immediate increase in production and facilities. Pursuing a Made In the UK status whenever possible, the new premises allowed in-house finish spraying, pickup manufacturing and CNC process to all take place under the same roof, adjacent to the traditional Manson hand-crafted manufacturing processes. Mikey Demus of Skindred joined the exclusive club of Manson signature artists during this time, leading to a player led development MA model, the MD-1 and MD-2.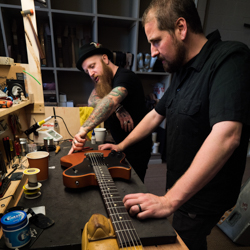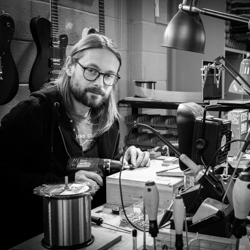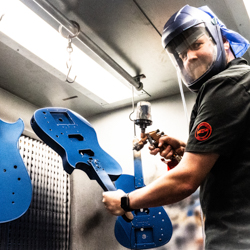 None of this activity escaped the attention of Manson Guitar Works signature artist, Matthew Bellamy, who in June 2019 purchased the majority share of the company from Hugh Manson providing an opportunity for Adrian and Matt to take the company into the next exciting decade. Covid 19 interruptions aside, the newly structured company already has exciting plans for the new decade, the first stage of which was to release a Manson branded more affordable MB style model. The META Series MBM-1 was launched to critical acclaim and several awards in 2020. We hope you'll join us on our next exciting journey.