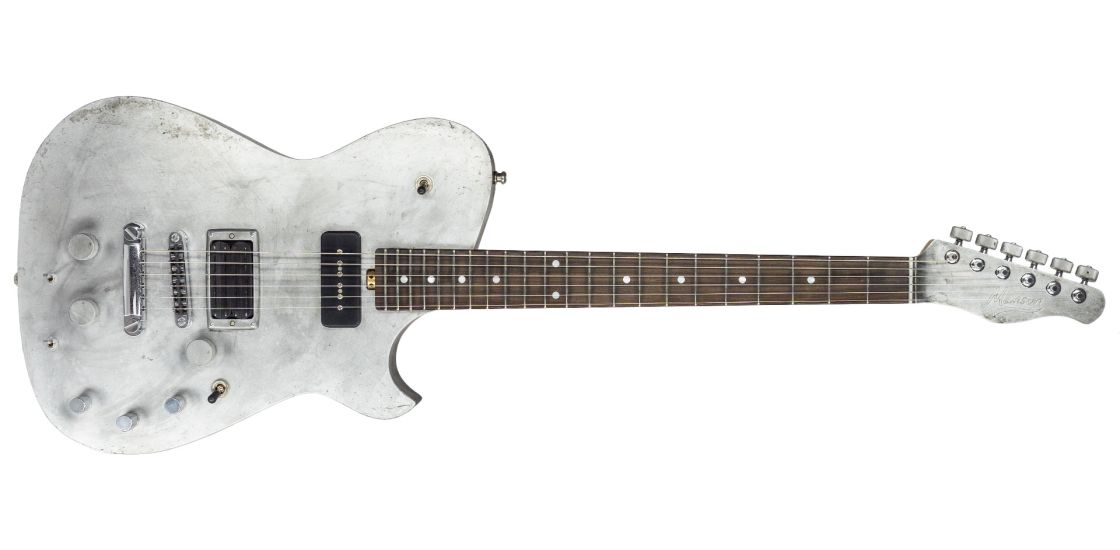 DL-OR Relic Edition
Manson Guitar Works are proud to announce the release of one of its most iconic instruments in the company's history, the Manson DL-OR "Origin Re-issue". Inspired by Matthew Bellamy's fully aluminium clad guitar, designed and originally built by luthier Hugh Manson, Matthew Bellamy and guitar electronics genius Ron Joyce, a production run of just 6 DL-OR Relic guitars will be available for sale. 
This production run version is the most closely replicated version of Bellamy's first Manson Guitars instrument. The original, which was used for MUSE's concert appearances from the launch of the Origin of Symmetry album onwards, was stripped and studied in detail at the Manson Guitar Works headquarters during the development and build programme of the DL-OR. The aim was to produce a modern DL as if Matt was ordering it today, but with a serious look to the guitars historic past. 
The Manson built pickups reflect the guitar in its early stage life whilst improving the quality and versatility of the set up. The multi-rail bridge "Mother Superior" pickup is a Manson in-house build by Simon Thorn and comes as standard with a push/pull coil split switching mode.
The neck pickup is another Manson design by Thorn in a hot output P-90 configuration; the Deci-Bel 90. The guitar features a built in USA ZVEX Fuzz Factory and MXR Phase 90. The end-user can move seamlessly from mild tonal explorations with subtle phase undertones (Phase speed is now controllable from a front potentiometer) or free fall fuzz insanity with the Fuzz Factory engaged, operated, as per the original, by external Stab and Compression controls.
The DL-OR Relic takes replication of Bellamy's DL-1 close to the original with same gauge 6230 fret wire, fingerboard side dot location, Ron Joyce internal Fuzz Factory sub-board control unit and the very last Fuzz Factory boards built to the same specification as the original DeLorean, a process involving months of development and the incredibly lucky find at ZVEX of original components. The component grail search wasn't just a case of finding the correct items; to replicate the original instrument, ZVEX had to source transistors in the correct gain range. That task was described by ZVEX as "like finding a needle in a haystack…" 
Fate intervened when long serving employee Shoua Thao found something buried deep in his component cabinet. ZVEX takes up the story; "Zack asked our tech Shoua how we still managed to have any of those germanium transistors after so many years? Shoua said Zack instructed him specifically to keep those last remaining transistors separate… for just this possibility. Ironically Zack had no memory of giving those instructions. You could say it was foresight forgotten, but amazingly, and thankfully, Shoua didn't forget!" The find meant Manson Guitars Works and ZVEX could now create replicas of the original board, as ZVEX described it, "We have the correct transistors to make perfect replicas. Hand soldered by the same person, on the same bread board used to build the original DeLorean circuit" 
Every DL-OR features the most accurate MXR vintage Phase 90 re-issue circuit modified at Manson Guitar Works. Accessibility to the phase speed is now completed through the front mini potentiometer from subtle shimmer to space-warbled otherworldliness! Pure Showbiz! 
Renown for a huge sound from the most stripped down of rock ensembles - the trio - Matthew Bellamy needed to move between acoustic purity, standard rock distortion and sonic chaos all from one single instrument. Installing a Graph Tech saddle system, amplified through a custom Ron Joyce preamp, allows one to achieve these seemingly impossible tasks without once having to set foot near a pedalboard. Ron Joyce found his original notes and circuit diagrams to rebuild this circuit just as per the original. In the DL-OR Relic the Fuzz Factory sub-board is also incorporated, just like the original instrument.
A road ready UK made Protechnic flight case protects the DL-OR guitars from anything a real world tour could throw at it. Each instrument is accompanied by a laser etched steel certificate with Matt's signature carefully reproduced. In addition, his signature adorns a hand signed card from the DL-OR promotional film. Each guitar comes with a Manson Premium UK crafted strap from Heistercamp, signature plectrums, and cleaning cloth. 
Please note: Cost of the guitar is £12999.00. The £3000.00 is a holding deposit, with the final balance due before shipping. 
Please contact [email protected] or [email protected] for more info.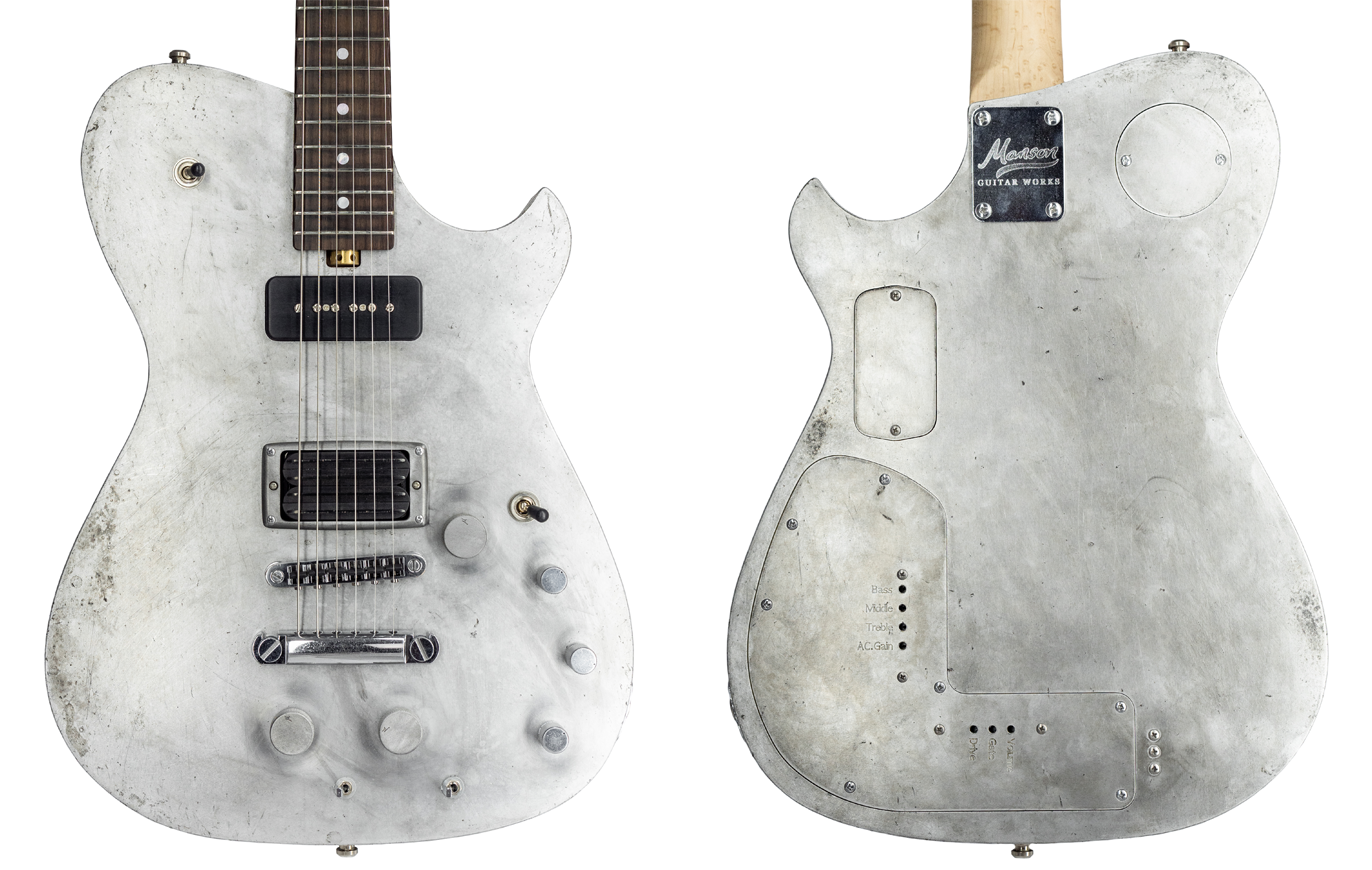 Body
Wood Species
Alder
Finish
Full Aluminium Body Cladding Relic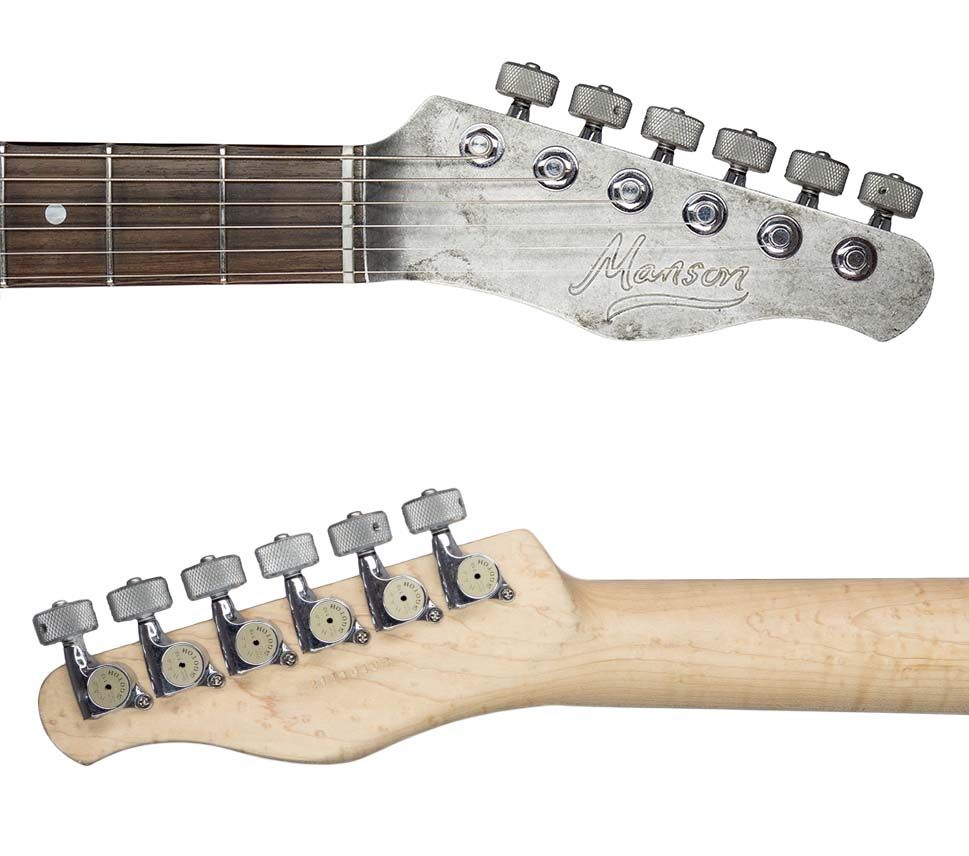 Neck
Material
Birds Eye Maple
Neck Profile
Soft V
Scale Length
25.5" (648mm)
Fingerboard Material
Rosewood
Fingerboard Radius
12" (305mm)
Number of Frets
22
Nut Material
Grap Tech Tusq
Nut Width
1.65" (42mm)
Inlays
MOP Front and Side Dots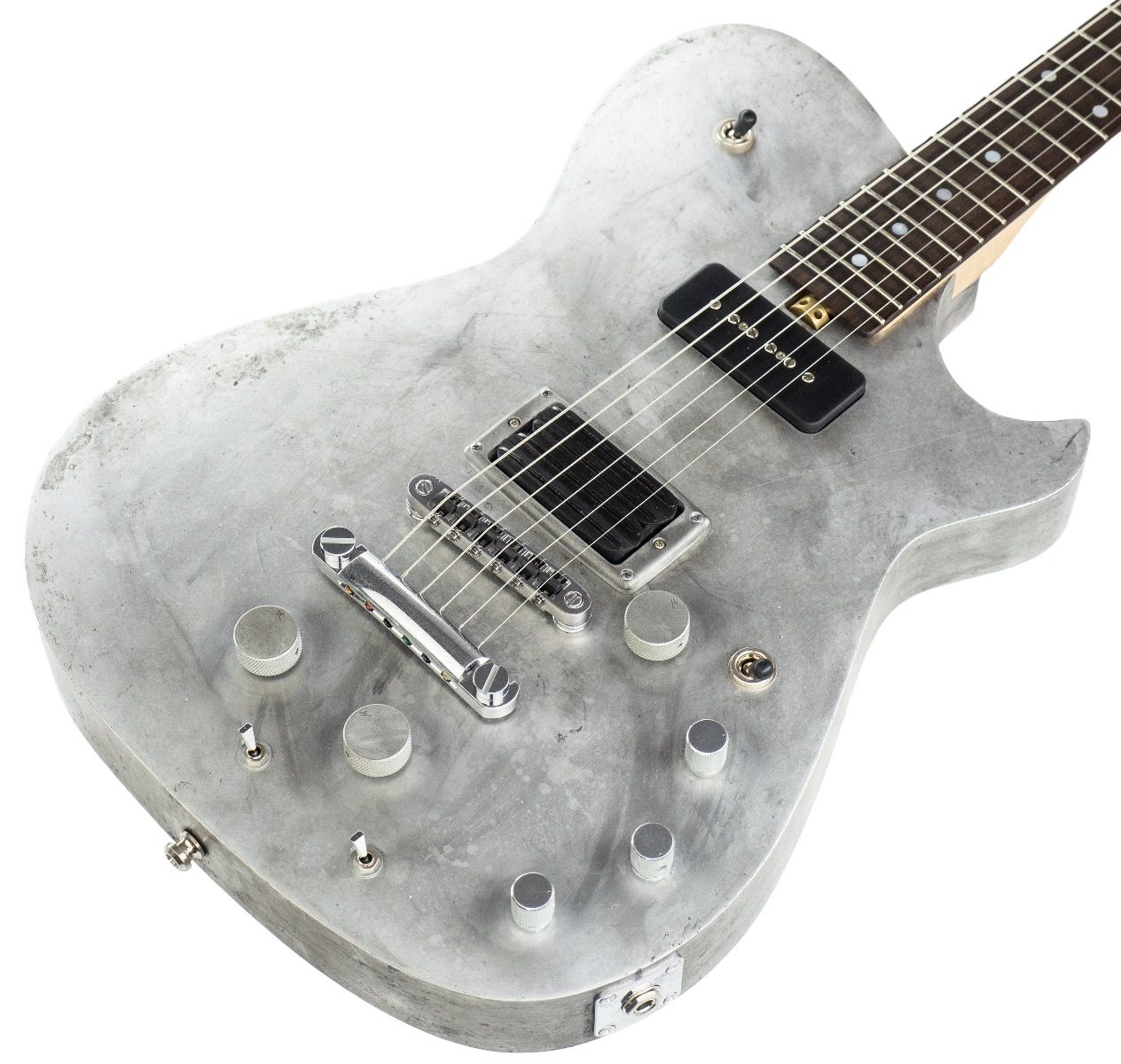 Hardware
Finish
Chrome Relic
Bridge
Graph Tech Ghost Resomax
Tailpiece
Gotoh GE101Z-T
Control Knobs
Custom Hardware & Gotoh Mini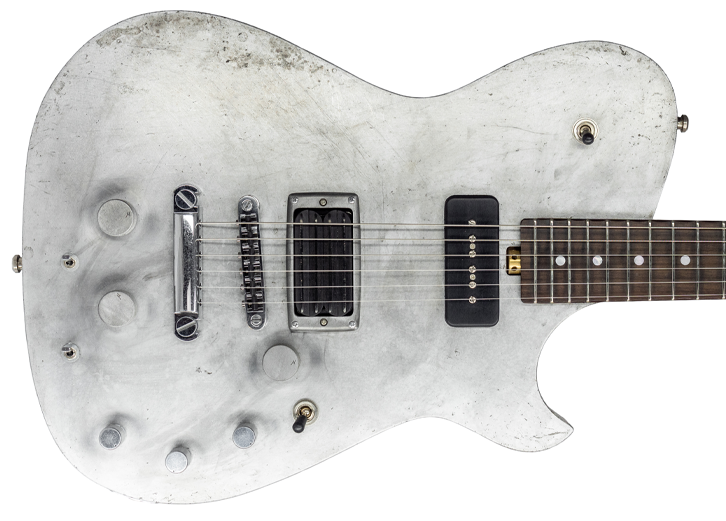 Electronics
Neck Pickup
DB 90 Relic
Bridge Pickup
Mother Superior Relic
Controls
Kill Switch, 1 x Volume, 1 x Tone (Push/Pull Bucker Split), 3-Way Pickup Selector, 1 x Piezo Volume, 1 x MXR Phase 90 Speed, MXR Phase 90 On/Off Switch, Z.Vex Fuzz Factory Off/On Switch, Z.Vex Fuzz Factory Stab and Comp
Accessories
Strings
Manson 10-46
Case
Custom Protechnic DL-OR Case
Other
Manson Truss Rod Adjust Tool, Gotoh H.A.P. Allen Key, Relic'd Aluminium Certificate, Matthew Bellamy Hand Signed Photo, Manson Premium Classic Gold Strap